Giving to education has a huge gain in the year-round philanthropic giving, per the third edition of The Philanthropy Outlook. Donor behavior seems to be the major factor propagating the trend. How do modern donors give? What motivates them and how does that behavior change how development teams plan their asks?
Donating to higher education has increased in particular via online giving. Both private and public institutions have witnessed successful fundraising campaigns.
In the recent years philanthropists in America have shown a growing interest in supporting education in the country. In fact, education was indicated as a priority for the philanthropic community. More and more charitable contributions are made to better education by training teachers, funding schools, inventive education programs and other likewise initiatives. Many people find it critical to support higher education, private K-12 schools, libraries and many more educational institutes. In 2014, about 15 per cent of the total charitable donations in America were made to educational organizations. Not only was it an increase in the donation to education but also propelled education sector to be the second largest recipient of charitable giving in America.
The study finds that giving to education includes all cash and non-cash donations from itemizing and non-itemizing U.S. households to U.S. education charities, including institutions of higher education, private K-12 schools, vocational schools, libraries, educational research and policy, and many other types of organizations serving an educational purpose.
According to the report, giving to education will be higher in 2018. The current projections predict it to be higher than it has been in the previous ten years. It will still be lower than the previous twenty-five and forty-year average. Giving to education is predicted to increase by 6.3% in 2017 and 6.0% in 2018.
Here are some of the factors that will significantly affect giving to education institutions in the year 2018:
GDP growing above the average
Expenses of education services incurred by the consumer increasing in the coming year
Consumer's expenditure on health
These three factors will be responsible for the majority increase in donating to education in coming years. How a charity grows also depends on the previous growth in specific economic variables. Other factors affecting giving to education in 2018 include recreation services, nonprofit service output, healthcare services and rate of consumption.
With the increase in the giving to education another equally growing phenomenon are fundraising campaigns between the institutions of higher educations that are continuously growing and becoming billion-dollar endeavors. These campaigns provide philanthropists an opportunity to give and in a generous way, which otherwise will be hard to come about. This only means that there is a direct relation between the increase in a number of these fundraising campaigns and increase in donations. If such campaigns continue in 2018 it will only give more opportunity for the people to donate to education.
HISTORICAL ANNUALIZED AVERAGES FOR GIVING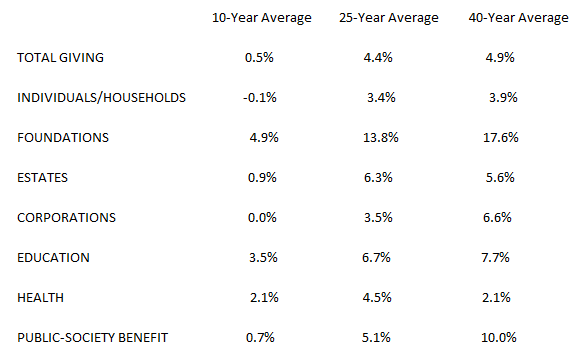 Charitable giving to education is expected to increase as a percentage of total giving, from an estimated 15% in 2014 to 17% in 2018.
These data are drawn from historical giving data found in Giving USA 2016: The Annual Report on Philanthropy for the Year 2015. Data are adjusted for inflation to 2015 dollars.
Donors these days seek more control of their philanthropic interests. Each and every year donors are getting more intelligent about how and where their money goes to. Many fundraising campaigns are hence based on donor-centric behavior. Understanding what drives donors today will help improve and build strong sentiments for fundraisers in future.